Welcome
The dates for the 2009 Blenheim Palace International Horse Trials are the 10th - 13th September.
The internet box office for advance bookings is now open.
event news
Four legs good at Blenheim!

Date 16/03/2009


This year Blenheim has an extra CIC3* class for 8/9 year old equine stars of the future and will have lots more dogs in attendance as it has chosen Hearing Dogs for Deaf People as its nominated charity is discussing the possibility of hosting a 'Scrufts' qualifier for the kennel club and has James Wellbeloved once again sponsoring the dog crèche and canine water bowls.

TWO DAYS OF TOP CROSS COUNTRY

Date 24/12/2008


Blenheim Palace International Horse Trials has been awarded the opportunity to run a CIC3* competition alongside its established CCI3* event for 10 – 13th September 2009.

" With the CIC cross country Sunday morning this will give spectators the opportunity to enjoy cross country on two days," said Event Director Mandy Hervieu " as well as offering more riders and horses the opportunity to compete at this prestigious venue". The class will be positioned as an opportunity to spot the stars of the future and is very likely to be a target for those aiming for 2012 as it is similar to the CCI3* but of less difficulty with a slightly shorter cross country course and not such a tight optimum time target.

Many riders will be keen to ride the anticlockwise course at Blenheim designed by Eric Winter but as yet never ridden, due to the cancellation of last year's event due to adverse weather. Both the CCI 3*and CIC3* will incorporate some of the feature fences such as the lake crossings, dew pond and famous 'Blenheim Flyer' fence.

This new competition provides a much awaited end of season target for the owners of talented young horses and will undoubtedly be an excellent showcase for those tipped for future success.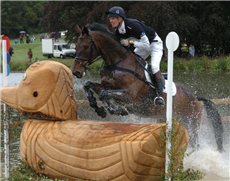 Blenheim Palace International Horse Trials has been awarded the opportunity to run a CIC3* alongside its established CCI3* in 2009 which means that there will be cross country on both Saturday and Sunday - see full timetable for further info